I had another post in mind for the 2nd edition of
WTF
, really I did. I have a fabulous post in my head about a fun and easy way to make chocolate croissants complete with detailed pictures of the process. It was the most delicious research I've ever done. Unfortunately writing that post is taking longer than making the croissants ever did so today's post is going to be about what I wore to work today. Fun, right?
This is pretty typical of my style. The skirt is brightly colored so that it can go with a variety of tops. It's just the right length and I would much rather wear a skirt than a pair of pants, especially in the summer. I know that in the past skirts and dresses have gotten the reputation of being more for dress up but I think they're perfect for running-around casual wear and it's nice to see them coming back into popularity in the stores. In hot climates they are much more comfortable than pants or even shorts.
I've paired it today with a new lace top. I love to wear a little lace for that vintage touch without looking like you're trying to recreate another century. The top came from an online catalog shop that I've recently discovered -
Monroe and Main
. What I really like about their clothes is that everything comes in plus size which is really nice because it's no fun to see a really cute outfit and find out it's not available to me.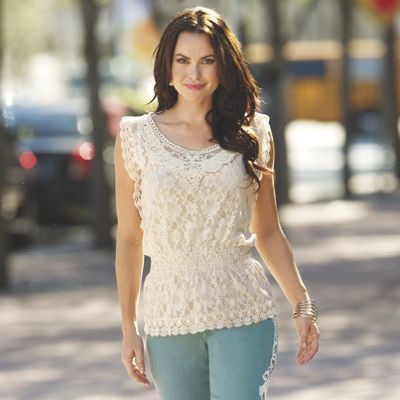 On top of it all I have added a little cardigan with a ruffle trim. I wear a LOT of cardigans because it's always jacket weather here. Luckily I love cardigans and they've been pretty popular in the stores for a few years now so I have built up quite a collection. I try to find ones that have interesting trim, ruffles or flowers rather than go for a plain, boxy style.
No outfit is complete without accessories and that's usually my favorite part of getting dressed in the morning but I went a little minimalist on this outfit, only a little white belt.
I finished it all off with my favorite yellow flats that have a peep-toe and a little flower accent. I have these shoes (from
Payless
) in yellow and navy blue and I have worn them non-stop in the summer for 2 years now because they are perfect for both pants and skirts. I do a lot of walking during the course of my day, up and down stairs, so heels are out. I love to find cute little flats. Like my cardigans, most of my shoes usually have a bow or a flower or some little frippery to keep them from being boring. I like shoes but I'm not shoe crazy like my mother...although I do see leanings in that direction from time to time. Luckily I wear a perfect size 8 so shoes are pretty easy to find in my size and I limit my shoe shopping to discount places.
I was having a sort of trial run with this outfit, I've never paired these particular pieces together before. I want to wear this on the plane to Las Vegas next week when we go for a family reunion. The great thing about this top is that it's sleeveless so I can ditch the cardigan when we get there and it'll be perfect for the 110 degree heat.
Of course lace tops and little dog toenails don't go together so I changed into my play clothes when I got home from work

We're having a mild day here (although no sun, just clouds) so I am rocking the capri jeans but note that I still have a cardigan on...I just can't get away from them.
Please excuse the spots on the mirror in the home-style picture. The cleaning person obviously hasn't cleaned the mirror ever in a long time. I'll have to have a talk with her. It looks like she didn't make the bed either. Sheesh
So that's my Wednesday in just a couple of pictures. I know it wasn't as good as a chocolate croissant but